What Makes GasTran Technology Different?
GasTran Technology offers several core advantages versus traditional approaches to degasification, liquid/liquid combination, and gas/liquid mass transfer processes.
Generates more liquid surface area via nano-sized droplets
Compact equipment size makes it ideal for:

Vacuum applications
Applications requiring high cost materials of construction
Improved maintenance and safety
Quick process start-up

Short residence time makes it ideal for:

Pressure sensitive materials
Temperature sensitive materials
Very quick reactions

Easy fluid handling makes it ideal for:

Degasification of viscous fluids
Degasification at high temperatures
Degasification at high pressures
Degasification of acidic or basic fluids

Insensitivity to orientation makes it ideal for use on:
Lab and Testing Capabilities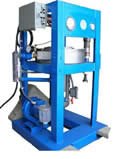 GasTran Systems realizes any capital investment in new equipment can be a difficult choice. For a nominal fee, GasTran Systems can process small sample sizes at our laboratory in Cleveland, OH. With the help of these tests, we can assist you in determining whether GasTran Systems are right for your application and what additional equipment may be required. Please contact us to learn more about sample testing.